Introduction
We know that programming for hours is not easy. However, it is a very difficult task if you don't have a good quality monitor, it causes headaches and eye strain which affects your work quality.
Do you want to open multiple windows on a single screen? But it doesn't work well, so we have covered it for you.
You must be in search of reliable monitors with good resolution and size. Low-quality monitors have blue flicker light, which harms your eyesight. You should select a crisp, clear, and flicker-free screen if you want to work overtime.
Researching a good monitor takes much effort and time; you don't need to stress out because we have created a list of the best monitors for programming for you. Take a look at it and sort out which one fulfills your requirements.
Let's get started!
Table of Content
Buying Guide
Size
Resolution power
Adjustable stand
Color accuracy
Refresh rate and response time
Best Monitors for Programming – Reviews
Dell Ultra Sharp U2720Q 27 INCH 4K UHD
LG Ultrafine Display 32ul950-W
BENQ GW2485tc
SAMSUNG S33A SERIES 22-INCH
SCEPTRE CURVED 27″
Dell s3221QS 32 INCH CURVED 4K UHD
Dell c1422h 14-inch portable monitor
Final Verdict
What Factors Should You Consider Before Buying a Monitor? – Buying Guide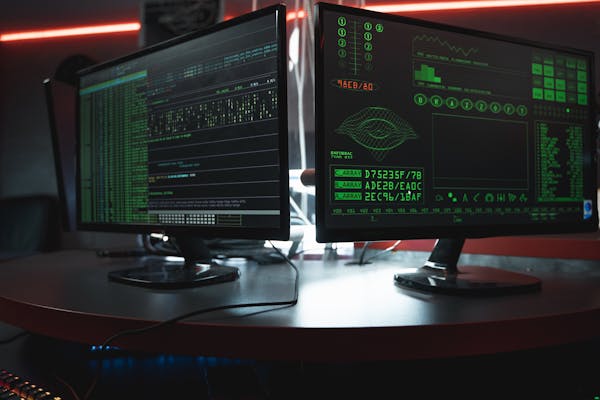 Being a programmer, it's not easy to select a monitor because there are thousands of options available in markets. 
We understand how as a programmer severe headaches and eye strains serve as hurdles in achieving your daily goals. But don't worry! We got you cover! We have jotted down some important points that you should consider before buying a perfect programming monitor.
But how can you consider a monitor the best one? Let us make you understand. The best monitors for programming are the ones that fulfill all your necessities and make you more productive.
So are you ready to understand some essential pointers for checking whether a monitor is a perfect choice for you or not? Let's dive into the article!
Size
It is observed that large screens are better for programmers. It facilitates you to open multiple windows on a single screen. Most big screens range from 27 to 32 inches in size which is a compatible size.
However, it is not necessary that everyone always need a large screen. The size of the screen also depends on your eyesight power and your working space. The more working space you have, the larger screen you can have.
But if you have less workspace to manage your setup, then you can opt for a small display that fits your work type.
Resolution Power
Resolution power is the capability of the monitor to show you clear and crisp text and images. It measures how many pixels fit on your screen.
Without any doubt, you should prefer high-resolution monitors because it has more pixels and your text seems clearer.
The most recommended screen resolution is 4K, 1080, and 1440 pixels. 4K monitors are a good choice because it makes your code extra visible. However, 4K monitors are a little expensive, so if you are having a tight budget, you can go for a 1080p monitor.
Adjustable Stand
We all want a setup that can easily adjust.  In this regard, make sure that your monitor fixes in all positions as one of the best monitors for programming. Many monitors have the ability to tilt upward and downward. However, it is sometimes not good enough for your health. 
As a programmer, you must be doing work at least 8-10 hours a day. Continuous working in the same posture can affect your physical health. If you are one of those programmers, you can also opt for VESA mountable monitors.
You can mount them on a wall within your comfort zone. In this way, it will help you maintain your health and posture.
Color Accuracy
The programmer always needs great color efficiency for coding.  Those monitors that can cover 95% of standard RGB Color gamut requirements are better to choose and can consider one of the best monitors for programming.
Also, the IPS panel shows good color content than VA panels. This is an important factor that you must check on a monitor.
Refresh Rate and Response Time
The higher the refresh, the lesser screen tear you can experience. The best refresh rate is between 140 to 160HZ but within the range of 60HZ is also pretty acceptable
You should select the monitor that responds in a period of 5mins. Just take a quick look at these features as well before you can buy a monitor.
Best Reviewed Monitors for Programming – Best Programming Monitors
We are here to make you choose the suitable and one of the best monitors for programming. You have read the buying guide which helps to choose the right monitor. Here is our list of the best monitors for programming we have brought for you.
Dell UltraSharp U2720Q 27 INCH 4K UHD
DESCRIPTION
If you are a professional programmer or just a programming student Dell Ultrasharp U2720Q 27 INCH 4K UHD led backlit is an excellent option. It offers diagonal IPS screen technology with great resolution
With 4k resolution, text and images seem clear and save you from headaches. Provide good color coverage that gives excellent visualization and helps you be consistent with your work. We have tested that these monitors have a color depth of 1.07 billion.
You can experience convenient ways to connect to other devices with fast-side pots. Its port selection contains one HDMI port, two USB-C ports, one display port connector, a hub of three USB type-A ports, and an audio line-out jack. You can enjoy undisturbed productivity with 90w power and keep your battery fully charged. It speeds up the process of transmission of power, videos, and data.
Moreover, you can do multi-tasking because it provides a feature of dell display manager that quickly view your application across one or more connected screen together.
Its ability to tilt, swivel, and pivot is very useful for you. You can adjust your monitor in multiple positions and mount it to different height levels for your eye comfort; also, it contains a feature comfort view that permits the emission of blue light to harm your eyes.
Features
Screen size: 27 inches
Resolution: 3480×2160 pixels
Weight: 14.6lbs
Brightness: 350 nits
Contrast ratio: 1300:1
Dimensions: 20.7×24.1×7.3 inches
Response time: 5mins(in faster mode) , 8mins( normal mode)
Aspect ratio: 16:9
Anti-glare screen
Pros
4k resolution monitor
Easy to adjust
Provide a good selection of port
Great view angles
Thin bezels
USB-C connectivity
Cons
It is expensive
Menu buttons are hard to press
LG Ultrafine Display 32ul950-W
DESCRIPTION
After a lot of research and effort, LG ultrafine is one of the best options we have found for you. It is programming as well as a personal 4k monitor. You can get UHD 4K resolution which shows awesome focus and visibility. You can view details four times better than full HD resolution. These monitors assure you accurate colors and brightness and it is prepared to work with compatible calibration tools.
Nano IPS display makes the color seems better because 98% of DCI-P3 color space can be covered by it. The smooth design of the LG monitor without a border emphasizes with the arc line stand looks very attractive. It has firmness and dependency because of the fine curve of the base.
You can facilitate with a single cable setup which helps you to transfer video, audio, and data. You can also charge your device along with your work. It allows you to throughput maximum 40Gbps data and a high bandwidth display port enables you to interact with two 4k screens at the same time. You can edit your footage with an expression full of color which can become achievable with DCI-P3 digital color. if you are an editor you can experience great color saturation, brightness, and shadow lights feel like you are actually in a place with your camera.
Features
Screen size: 32 inch
Resolution: 3480×2160 pixels
Weight: 16.1 pounds
Brightness: 600NITS
Refresh rate: 60Hz
Contrast ratio: 1300:1
Dimensions: 28×39.1×23.5 inches
Response time: fast
Pros
Due to the high 4k resolution image is clear
HDR-P3 gives great color accuracy
Thunderbolt 3 helps to charge the device
Not too much expensive
Cons
View angles are horrible in a dark place
Blink backlight
BENQ GW2485tc
DESCRIPTION
BENQ is a suitable option if you are conscious of your eye health. These monitors help you to work for longer hours and do not cause eye pain and enhance your performance. They have good ergonomics so you can adjust the height according to your eye comfort level.
The most prominent feature of this monitor is that its integrated microphone helps you to hear clear-cut voices even if you are in a room full of people you have to set your monitor to dialogue mode which will cut all background noise. As we all know that rather it's a zoom meeting or a conference call, all become necessary in this modern age. BENQ's built-in microphone has made it easy for you to hear a clear voice to communicate well with your clients and friends.
Save you from eyestrain and headache by its some features which will protect your eyes. Prevent blue light that harms your eyes, dull color intensity and brightness make work easy and offer efficient ways of coding. It has a thin bezel design with a base that takes little space so you can adjust it in the office or home where you want. The view angle looks better with a thin border and the screen display also seems big.
Create an easy daisy chain connection with other monitors and ports. Increase your multitasking ability and become more productive. Charge your device by 60W USB-C through a single cable. It helps you in the fast transfer of videos and audio.
Features
Display size: 23.8 inches
Resolution: 1920×1080 pixels
Brightness: 250NITS
Contrast ratio: 1000:1
Refresh rate: 75Hz
Weight: 13.64 pounds
Dimension: 21.3×13.5 ×2.4 inches
Response time- 5mins(minimum)
Anti-glare screen
Ultra slim- borderless monitors
Pros
The display is easy to adjust
Brightness does not harm the eyes
USB-C and daisy chain connection
Cons
The USB hub is absent
Not so useful in dark areas
SAMSUNG S33A SERIES 22-INCH
DESCRIPTION
Samsung S33A is useful for programmers, video editors as well as personal work. The display has an elegant black color and the box comes up with one HDMI cable. You can link with other devices and external drives through your HDMI cable and get a suitable work environment with easy access to other input sources.
SS3A has a broad view angle and advanced VA panel that views amazing bright and dark pictures due to an efficient contrast ratio. It becomes only possible because there is no escape from light in a crisscross.
No matter where you are sitting whether on a corner of a bed far away from the screen or standing with a wall, pictures and animation seem clear and bright at 178 degrees in every place.
Your eye care is our main priority. If you work the whole day you don't worry about flicker, its flicker-free feature protects your eyes from irritation. You can use eye saver mode to reduce blue lights and keep your eyes fresh and energetic. It can bring you to the different world of computing. It offers you some special modes and color combinations to bring the best view in your games, text, movies, or whatever you do.
Furthermore, if you are a gamer it is a lifesaver for you. You can enhance your screen contrast to become a competitive gamer and when you are in a dark place you can easily fight with your enemy.
Features
Screen size: 22 inches
Resolution: 1920×1080 pixels
Brightness: 250nits
Contrast ratio: 3000:1
Refresh rate: 60Hz
Weight: 5.5 pounds
Dimension: 7.1×19.9×14.4 inches
Response time: 6.5mins
Glossy-screen surface
Pros
Good contrast ratio
VA panel technology
HDMI connection
Cons
60hz refresh rate only
Not flexible to adjust
Broad bezel
SCEPTRE CURVED 27″
DESCRIPTION
This brand is useful for programmers, gamers, and for those who want to do business. This monitor has a curved surface and it looks metal black in color. The 1500R Curved display makes you competent to face all challenges and take all possible lucky chances as a gamer and programmer. Delivers better color accuracy because of 98 percent standard RGB which represents the finer color and describes details
Adaptive sync technology stops your image to split and tear because it withdraws the space between the screen refresh rate and the graphics adaptor. You can also take full benefit from modern built-in speakers that facilitate users with a soft and smooth sound. It comes with one VGA port and two HDMI and has a maximum refresh rate which is necessary to get an obvious and clear edge to beat your competitors.
VESA wall mount pattern helps you to choose the best view position for your display, get rid of cable disorder, and reserve your useful space for other purposes. You can tilt your display 5 degrees onward and 15 degrees reverse so you can work on your luxurious place with clearness and comfort.
These monitors help you to do work without eyestrain and headache because their blue light shift feature lowers blue light and makes it easy to run any software. Its fast response time does not show blur images and you can perform coding without irritation.
Features
Screen size: 27 inches
Resolution: 1920×1080 pixels
Brightness: 250nits
Refresh rate: 75 HZ
Weight: 5.5 pounds
Response time: fast
Contrast ratio: 3000:1
Pros
Produce crisp colors and pictures
Curve and bright screen
Inexpensive
Various interfaces
CONS
Speakers sound pretty low in noise
Fewerconnectivity cables
Dell s3221QS 32 INCH CURVED 4K UHD
DESCRIPTION
Dell s3221qs is one of the best monitors for programming that we have tested for you. Its 32 inches screen is good for all types of projects and the high 4k display resolution with a design of extra-slim bezel on three sides that makes the view crystal clear at any angle, details appear 4 times better than full HD resolution.
This display has an advanced curve design with an ultra-fine appearance behind the monitor's back. This feature gives special look to your monitor and wherever you can place a display it delivers a touch of melody to your space. Provide you with an attractive view and enhances your range of clarity with its 1800R curved screen.
You can multitask with two other PCs either with the picture by picture feature-it breaks the screen into two parts, or picture-in-picture makes you able to watch two pictures at a time by means of viewing a small window within an original window. You can also prepare your device to plug in by the use of integrated HDMI ports that helps you to handle the transmission of data easily.
This monitor enables you to experience better, fine, and free AMD sync automation. Furthermore, enjoy every beat of sound with 5W dual integrated speakers which give the feel of great cinema sound. You can get an opportunity to keep all your documents, apps and windows on a single screen by clicking the dell easy arrange feature.
Feature
Screen size: 32 inch
Resolution: 3840×2160 pixels
Brightness:300nits
Refresh rate: 60 Hz
Response time: 4ms(extreme mode), 5ms (fast mode) and 8ms(normal mode)
Contrast ratio: 3000:1
Weight: 16.25 pounds
Dimension:: 27.92×8.15×20.4 inches
Pros
High 4k resolution
Large display size
Great port selection
Sync technology
Prevents blue light
Adjustable stand
Graceful design
Cons
Poor adjustable setup
Dull brightness
Average view position
Dell c1422h 14-inch portable monitor
DESCRIPTION
Want to carry your monitor from place to place and are in a search of portable monitor? We recommend that dell c1422H is best for you. This monitor comes with a tilt stand that can twist from 10 to 90 degrees according to your work type.
Its screen is easy to move and settle. Dell has introduced its first portable monitor which only weighs a few pounds. No, wherever you want to go rather in your office or on a trip with your friends, enlarge your screen with a double display feature and work on a suitable, concise display.
With the advancement of IPS technology and a full HD panel, this monitor gives you broad view angles and is good for teamwork. You can connect your display with a single USB-C cable that helps in the quick and efficient transfer of your data and power together. USB-C cable is introduced to give you an easy connectivity setup. You can connect it on the left or right side for greater flexibility. This wire is smooth and fixed in your bag.
The brightness is incredibly good and can light up your windows and other applications. It has a flicker-free light and saves your eyes from fatigue with the reduction of blue light.
Features
Screen size: 14-inch
Resolution: 1920×1080 pixels
Refresh rate: 60Hz
Contrast ratio: 700:1
Weight:1.3 pound
Response time: 6ms
Brightness: 300nits
Pros
High resolution
Elegant image view
Easy to carry
Adjustable brightness
Double display efficiency
Cons
Dell monitor has a slow response time
The screen looks dull in a dark room
Fewer connectivity ports
Poor adjustable setup
Low refresh rate
FAQ'S
Is it beneficial to buy a large-screen 4k monitor for programming?
Yes, large screens give more lines to write text and code, obviously because of more screen space. It is helpful to visualize work in your head if you can see more code at a time.
Does it worth buying multiple monitors for programming?
It depends on which type of work you want to do. Widescreen monitors with high resolution are single enough to perform multi-tasking, especially for those who suffer from neck pain; but you can also prefer two monitors with small screens because many people find it difficult to work on a big screen.
Is it good for programmers to use curved screen monitors?
Curved screen monitors are only good for a few minutes when you use them. They do not reduce your eye strain and are much more expensive than flat-screen monitors. Flat monitors have more benefits than curved especially for programmers.
Final verdict
So what are the best programming monitors?
As we have guided you the biggest is the better. You can choose anyone from the above like LG and DELL that have big screen sizes with high resolution. If you are more serious about your eye health then BENQ GW2485TC is a good option .its features are also satisfying. Moreover, some programmers demand small screen portable monitors like dell c1422h so they can take it from place to place.
Let's take a quick move and buy your favorite monitor.