Nowadays we do all our work on mobiles, laptops or computers. And also save these important files and documents on our gadgets. But what if you lost your important data due to a dead hard drive?
So, there is no need to worry. In this article, we are going to let you know how to recover data from a dead hard drive. Stay tuned and keep reading the article till the end!
CAUSES FOR HARD DRIVE CORRUPTION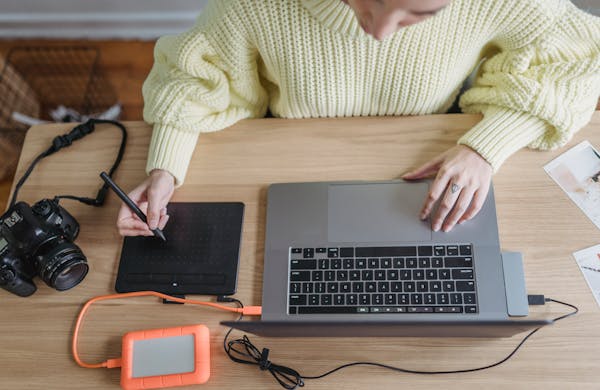 First, you need to know the causes of hard drive corruption. Then you can find the correct solution for your dead hard drive.
1. Human Error
This is the most common error that occurs due to human fault. It happens when you change the registry files or delete any file by mistake. It also causes when you hand over your pc to a person,  who does not know about your system, resulting in a dead hard drive.
2. Overheating
It causes due to high temperature and defaulted CPU fan. When your system becomes too heated and does not get proper ventilation, your hard drive dies, and you can lose all data stored in your drive.
3. Firmware
This error occurs due to sudden electric shock, low power supply, or voltage breakdown. Such factors harm the hard drive's firmware, which is your drive's main operator. Without firmware, the hard drives do not give access to your system.
Another reason for its failure is sometimes manufacturer fault. Your brand new hard drive stops working. Why? Because the manufacturer had not checked and examined it in a proper way. The manufacturer's company can only fix this type of error.
4. File Corruption
The main reasons for this error are sudden deletion of any files, attack of viruses, and failure of important apps or software, leading to large file corruption. In general, large file failure causes your hard drive to be damaged.
Can Data be Recovered from a Dead Hard Drive? 5 Ways to Recover Data from Dead Hard Drive
We know that you become exhausted when your hard drive does not respond well; you are afraid of the thought of your important data loss but don't worry; we will introduce some best ways to answer your question about how to recover data from a dead hard drive.
As we move forward, we must remember that we should follow every step. Connect your hard drive to another system that is working with the help of a data cable into your pc. You can buy an external USB that connects to any hard drive if you have a laptop.
1. From the Recycle Bin
All of your deleted files are stored in recycle bin of your pc temporarily. If you have deleted the files by delete key, your data will be found in the recycle bin. Just go to your recycle bin, right-click on that file, and then click on the restore option.
But this way is beneficial only for a few days, so try to recover your files as soon as possible.
2. From data recovery software
Ease us data Recovery Wizard WinPE Edition
It is a well-developed software that helps get your data back in a few minutes. You can restore up to 2 GB of data for free; it also gives an option to view your lost files so that you can easily select important files to restore.
Disk Drill
If you do not find your data in recycle bin, then you should need any data recovery software. Disk Drill is another good choice for recovering your lost data.
Its free version scans your unlimited lost files. This software runs on Windows and macOS, and you can also use its paid version if you want to recover a large no of files.
You can use this software as follows
Install disk drill software on your pc
Search for your hard drive and click to restore
Preview and download your files
3. Backup Plan
Another simple way to restore your data is a backup plan. It only works if you already have a backup in your system. If you have a Backup, you can retrieve your data from file history; because it contains all your files and allows you to restore a copy of your important data.
If your data is in file history, follow these steps to recover them.
Go to  file history on your pc; it previews the scenario of your data
Select the files that you need to back up and click the restore button.
You can get back files in your folder when these files are restored.
4. By use of one drive
If you have one drive account, then you got a safe chance to regain your data. If you have synced your hard drive data into your one drive account, you can recover your data by use of the internet from one drive whenever you want.
5. With the help of an inbuilt error tool
Follow these steps to check errors from this tool
Click on the right side of the hard drive option and then click on properties.
Go to the tool button in properties, click on check, and scan the drive.
This will start the process of checking errors in your hard drive and fix it; makes your lost data retrieved, and again give access to your hard drive.
How to Recover Data from a Dead Hard Drive
We have to acknowledge you about the internal hard drive damage recovery. But if your hard drive got physical damage, it is not recovered at home. If your hard drive is damaged physically, your pc does not start up, or its drive makes a noisy sound, or maybe it remains silent because it cannot rotate properly.
After recognizing its external damage, turn off your system to save your data from permanent loss. Call any hard drive data recovery company or any hardware professional that will help to fix your drive and retrieve your data. They will know the best ways of how to recover data from a dead hard drive.
Tips to Avoid Hard Drive Failure
Back up your important data from time to time.
Take care of your hard drive ventilation, clean it regularly and avoid overheating.
Don't install unnecessary software. It also becomes the cause of internal data loss.
Power off your computer if it becomes too much hot.
Use a surge protector to avoid power shocks
Conclusion
We have given you many options, but it depends on your hard drive condition, which suits them best. First, try to identify your drive problem and then get a solution. Take precautions in the future to avoid your hard drive from getting any kind of internal or external damage.
We hope by reading the above article you get your answer on how to recover data from a dead hard drive.