Make the most of your gaming sessions with the best gaming earbuds. Here is a list of the top 10 earbuds, their features, pros & cons, and buying guide.
Introduction
Gamers like to play on the go, and earbuds can be your best friends for long gaming sessions. Why?
Because earbuds weigh less and provide high sound quality than heavy headsets. Amateur and professional gamers typically prefer earbuds because of their sleek and stylish look. They are more comfortable.
Earbuds have the lowest latency rate in sound transmission and are closest to the eardrum.
All outer sounds are blocked by the external ear canal's total closure due to in-ear earbud designs. Earbuds can produce a more immersive gaming environment because of their structure and layout.
Take a look at your options and choose the one that will improve your game experience.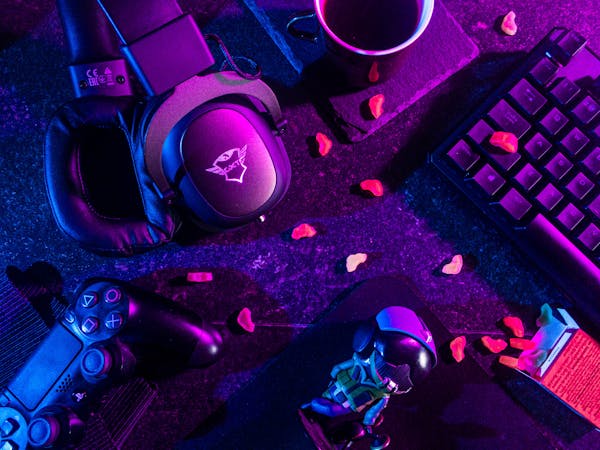 Table of Content
Buying Guide
Connectivity Technology
Drivers
Sweat and Water Resistant
Frequency Response
Audio Profile
Sound Isolation
Noise Cancelling
Compatibility
Build Quality
Comfort
Best Earbuds For Gaming – Review
Turtle Beach Battle Gaming Earbuds
EPOS GTW 270 Wireless Gaming Earbuds
Steel Series Tusq Gaming Earbuds
1MORE In-Ear Gaming Earbuds
Bose QuietComfort Gaming Earbuds
Flydigi Cyberfox T1 Gaming Earbuds
MINDBEAST Super Gaming Earbuds
BlueFire Gaming Earbuds
Razer Hammerhead Gaming Earbuds
HyperX Cloud Gaming Earbuds
Things You Must Consider While Purchasing Gaming Earbuds
Earbuds are a common choice because they are portable and smaller than over-ear headphones. Not all models, though, are cost-effective.
Before we get to our product reviews, we'd like to discuss what you should look for in the best gaming earbuds quickly.
Over-ear headsets are more expensive, bulky, and inconvenient than earbuds. Additionally, best gaming earbuds prevent excessive sweating in your ears during prolonged gaming sessions.
We've created a brief buying guide to remove any uncertainty. So, invest your time in reading the following guide before investing your money in buying earbuds.
Connectivity Technology
Based on your comfort level, you can choose between the best-wired gaming earbuds and the best wireless gaming earbuds. Pros and cons can be found for each. For example, the best-wired earbuds allow you to connect to multiple devices, with the only drawback being that the cord restricts motion.
On the other hand, wireless earbuds allow you to move freely but need constant charging. If you don't want to worry about charging your earbuds after several hours of gaming, you might be better off choosing wired gaming earbuds.
Drivers
These are one of the most important things to look for while buying the best gaming earbuds.  These parts produce the sound in earbuds.
The more drivers an earbud has within, the better they generate sound. This is because these drivers contribute to the production of the bass, midrange, and high tones.
Sweat-resistant
If you want to play for a long time and know you'll work up a sweat, you must buy sweat-resistant best gaming earbuds. The moisture won't harm them in this way.
Frequency Response
This shows how many different sounds the earbuds can accurately and distort-freely reproduce. 20Hz–20kHz is a very common frequency response which is also the range of human hearing for most people.
Audio Profile
Earbuds' audio profile refers to how they produce audio. For example, earbuds with large speakers focused on the lower frequencies can be described as having a bass-heavy audio profile. Most of the time, the best-performing products have a highly balanced profile.
Sound Isolation
You can still hear everything around you, even when using headphones. One of the two ways that earbuds can solve this is by blocking out or isolating the sounds. Noise-canceling earbuds make your ear more tightly sealed. This makes it simpler to keep the outside world outside and the sound of your games within.
Noise Cancelling
Earbuds use microphones for noise-canceling and picking up sounds in your environment. Using microphones, active noise cancellation picks up sound from your earbuds and replaces it with anti-noise, which is the opposing sound wave. Since there is a delay in receiving and sorting sounds, it works best with repetitive noises since it can predict what to block out.
Build Quality
Furthermore, you should not only consider the best gaming earbuds based only on their sound quality and frequency response; occasionally, the build quality is important as well. Generally, earbuds are made of various materials such as plastic, aluminum, and silicone. However, you should choose ones made of silicone and aluminum because they are of the best quality. In reality, these earbuds are both long-lasting and comfortable to use.
Compatibility
Earbud's compatibility matters the most. Earbuds that are compatible with various devices are multiplatform compatible. Gamers play on various iOS and Android devices. Some play on their mobile phones, others on Xbox, PS4, and PC.
Comfort
When it comes to earbuds, you should never compromise for anything less than the best. You should always choose the most comfortable gaming earbuds because it often impacts the whole gaming performance. Numerous gadgets claim to be the best gaming earbuds; nevertheless, you must choose one that is comfortable, has a moderate weight distribution, and is free of undue irritation.
Furthermore, look for earbuds with comfort features like silicone plugs or rubber ear tips. These features will allow the earbuds to be comfortable in your ear without being too bulky. They also include noise-canceling technology to keep you fully insulated from outside noise that could interfere with gaming.
Make Your Selection Easier with the Gaming Earbuds Reviews
1. Turtle Beach Battle Gaming Earbuds
The Turtle Beach Battle Earbuds are designed to compete wherever you play on any platform. Battle Buds are the ideal blend of in-ear comfort and amazing sound quality.
These are distinguished from other earbuds by their removable microphones. The microphone is built into one of the earbuds and reaches the user's mouth.
Smooth communication occurs with high excellence when the microphone is placed close to the user's mouth. People first thought that the microphone would constantly fall out of the ear. But this is not true.
This earphone is compatible with gaming consoles, personal computers, cellphones, the Nintendo Switch, and tablet devices. You can easily play mobile games on your public transportation or Call Of Duty on Xbox or PlayStation at home.
It is built with a detachable, high-sensitivity microphone for when you're on the run. A multifunctional controller with master volume control and mic mute lets you play for hours in perfect comfort and control.
Features
Connectivity Technology: Wired
Weight: 0.24 pounds
Removable microphone
In-ear earbuds
Inline microphone
10 mm Speakers
Pros
Highsensivity detachable microphone
Compatible with multiple devices
Inline mic control
Lightweight
Sweat-resistant
Cons
Wired thus tangible
The earbud doesn't fit properly
2. EPOS GTW 270 Wireless Gaming Earbuds
Do you want to experience out-of-this-world audio quality while you defeat your opponent? If yes, then you should consider buying EPOS's best gaming earbuds.
It is unique because of its fitting and comfortable shape. It is soft and flexible where it needs to be and easily adapts to your ear.
The sealed acoustical structure reduces noise in the background so you can block it out and get yourself in the enthralling audio of your game. With its powerful audio profile, you can escape the real world and enter your game.
Dual microphones give sound clarity, and the supplied charging case doubles the earbuds' five-hour listening time to 20 hours.
Features
Connectivity Technology: True Wireless
Weight: 0.8 pounds
Closed acoustic earbuds
High audio technology
Dual microphones
Portable charging case
Pros
Maximum noise reduction
Noise isolating earbuds
Excellent voice pickup
Multi-compatibility
Bluetooth-compatible device
Water-resistant
Chargeable case
Cons
3. Steel Series Tusq Gaming Earbuds
These gaming earbuds are very similar to turtle battle earbuds because they both have an inline microphone and a detachable boom microphone.
These have excellent portability with multiplatform compatibility. It is designed to fit in the ear with ear hooks. The high audio profile lets you play your match while enjoying the rumbles and grumbles of games.
The ear-tips come in three sizes to accommodate your ear size or liking. Although it does not allow Bluetooth connectivity, its dual microphone system could be a good choice.
Features
Connectivity Technology: Wired
Weight: 0.2 pounds
Inline microphone
Detachable microphone
Ear hooks
Frequency response: 0.16 dB
Pros
Excellent recording quality
Well-built
Sweat-resistant
Comfortable to wear
No charging issues
Cons
Limited sound control
No noise canceling
Low audio profile
4. 1MORE In-Ear Gaming Earbuds
These triple driver sleek 1MORE wired earbuds are one of the best gaming earbuds. These provide an amazing gaming experience with high sound quality.
These provide accurate sound effects that help you communicate better while playing GTA. It also has a comfortable structure that fits perfectly in your ear and lets you play for long hours.
With aluminum earbuds and a pleated cord, the build quality is excellent. Several color variations, such as rose gold, provide a little more sparkle. This earbud works with game consoles, PCs, cell phones, the Play Station, and tablets.
It is tuned by a Grammy Award winner sound engineer- Luca Bernard. It also gives you access to control sound with the inline controller. The intelligent control and sound technology make it an easy pick. It is one of the first's THX-certified headphones.
Features
Connectivity Technology: Wired
Weight: 0.04 pounds
Three drivers
Ear-fitted design
Inline control
9 ear tips fittings
Pros
Accurate audio profile
Compatible with iOS and Android devices
Sweat-resistant
Sleek and trendy
Cons
No Bluetooth connectivity
Tangible
5. Bose QuietComfort Gaming Earbuds
One of the best gaming earbuds of all time is Bose QuietComfort earbuds. Bose is an American company that solely focuses on audio devices and their quality. These earbuds are the world's best noise-canceling earbuds. They have used acoustic noise-canceling technology to block the outer world. This allows you to focus on you winning your game.
These are truly wireless earbuds providing high acoustic quality. These come with three sizes of ear tips to make your gaming experience comfortable. These are made of silicone, which also helps block out external noise.
The advanced touch control technology has made it easy to control the audio settings. You can tap or press the earbud to pause and play the sound.
The IPX4-rated wireless earbuds are sweat and water-resistant. It has long battery life. It has the best noise-canceling technology. It eliminates other distracting noises.
Features
Connectivity Technology: True wireless
Weight: 0.1 pounds
Two hours of charging time
Silicone body
Touch interface
Bluetooth connectivity available
Compatible with iOS and Android devices
Pros
Long battery life
Sweat and water-resistant
Multiplatform compatible
Bluetooth connection
Eartips fill in gamers' ear
True Wireless
Comfortable and lightweight
Noise-canceling technology
High audio profile
Cons
Large charging case
Expensive
No up-gradation
6. Flydigi Cyberfox T1 Gaming Earbuds
These Flydigi Cyberfox earbuds are one of the top listed best gaming earbuds. These are truly wireless. They have a unique in-sync audio-visual quality which makes your gaming experience better. It has a low latency rate.
The powerful driver in these wireless earbuds provides amazing sound effects. These are suitable for gaming as well as for musical beats.
With the immersive sound quality with a high-frequency audio profile, it will be a loss not to choose this. These are also good for making important calls as they reduce noise with in-call ENC noise reduction technology.
These have 24-hour long battery life because the charging case provides 20 hours of battery to the earbuds.
Left and right earbuds can be auto-paired with the Bluetooth dual transmission. If you are having a long night of gaming, then comfort comes second as first is to win the game.
These in-ear wireless earbuds are made up of silicone. These are highly comfortable to wear. These are sweat and water-resistant.
Features
Connectivity technology: True Wireless
Weight: 0.24 pounds
Silicone body
Three ear tip sizes (small, medium, and large)
24hours battery life
ENC noise reduction technology
IN-sync audiovisual technology
Bluetooth connectivity
Pros
Wireless
Sweat-resistant
High audio profile
Noise reduction
Cons
7. MINDBEAST Super Gaming Earbuds
These high-quality best gaming earbuds provide 90% noise isolation. It has a powerful driver and produces deep bass. The sound quality is just perfect for your PUBG gaming session. The in-ear technology removes any external noise to make you comfortable.
You can also use these exclusively amazing earbuds while you are on the run or losing calories in a gym.
The body of the earbuds is made of silicone with three pairs of ear tips. This in-ear design fits your ear without a doubt of falling out.
It has a unique shape. The tornado shape earbuds look sharp and sleek. These are also sweat and water-resistant. Earbuds can be connected to various iOS and Android systems. These earbuds can also connect your Xbox, mobile, and PS4.
Features
Connectivity Technology: Wired
Weight: 0.03 pounds
Built-in microphone
Silicone body
In-ear design
5ft cord
Immersive driver
Pros
Sleek design
Water and sweat-resistant
Multiplatform compatible
Bluetooth connectivity
Cons
Tangible
Not the best microphone
8. BlueFire Gaming Earbuds
BlueFire gaming earbuds are wired earbuds with an extension cord. It is compatible with most devices such as phones, PS4, Xbox, and PC.
The earbuds are memory foam that lets you play for long hours without any break. These are lightweight. The microphone rotates 120 degrees for any angle you like.
The noise can sometimes be distracting during gaming contests, so worry not and buy these amazing earbuds. These have wonderful noise canceling and isolating technology that helps you focus on your game.
The excellent bass and sound quality bring about the greatest sound effects. The silicone earbuds come in three different earbuds sizes.
Features
Connectivity Technology: Wired
Weight: 0.2 pounds
2.2mm cord
Three ear tips
HD noise isolation technology
Two microphones
Pros
Excellent bass
Cheap
Good sound quality
Cons
9. Razer Hammerhead Gaming Earbuds
The Razer Hammerhead True Wireless Pro earbuds are meant to provide excellent sound quality while still being trendy. You can effortlessly modify your look with these best gaming earbuds.
Active noise cancellation technology creates exceptional audio quality. The Razer Hammerhead True Wireless Pro provides an outstanding audio experience and all-day comfort whether you're listening to music, gaming, or watching Netflix.
They also include dual Environmental Noise Cancelling (ENC) microphones for improved voice controls. These earphones provide unrivaled clarity and durability. You can focus on winning – with advanced microphones that identify and eliminate unpleasant background noise.
These earbuds have an in-ear style for a nice, comfortable fit and increased noise isolation for undisturbed audio listening. Furthermore, with extra ear tip sizes supplied, you may discover the ideal comfort level for all-day gaming.
It has a reduced latency gaming mode and improved audio profile, making it ideal for mobile gamers. This gadget is great for any smartphone gamer due to its unobtrusive design. Don't pass up this essential gaming accessory.
Features
Connectivity Technolgy: True Wireless
Weight: 0.12 pounds
Active noise cancellation technology
In-ear design
Low latency connection
20 hours of battery life
6 silicone ear tips
Compatible with iOS and Android devices
Pros
Long battery life
Comfortable and lightweight
Multiplatform compatible
Active noise cancellation helps to focus on gaming.
Cons
Expensive
Some gamers complained about the battery life.
10. HyperX Cloud Gaming Earbuds
The HyperX Cloud Gaming Earbuds will help you get the most out of your portable gaming. These earbuds deliver characteristic HyperX comfort and excellent in-game sound effects, making them ideal for on-the-go gaming. Furthermore, an in-line mic allows you to communicate with your buddies while playing.
These best gaming earbuds are compatible with the Nintendo Switch, mobile devices, and PS4. They are also PC adaptor friendly with other gaming platforms, allowing you to take them to your next gaming event or bash.
These earbuds have a great sound quality and provide strong in-game audio, so you can detect every element, whether gaming or playing music. The smooth cable makes it easy to carry. It is also resistant to twists and breakage from daily use.
Features
Connectivity Technology: Wired
Weight: 0.05
3 sizes of silicone ear tips
Inline microphone
Pros
Comfortable
Immersive gaming audio
Slim inline microphone
Smooth cord made of rubber
Pocket-friendly
Cons
Gamers complained of poor earbud fittings
FAQs
Do earbuds work well for gaming?
Earbuds are great for gaming, as long as you get the proper ones. Because they are compact and lightweight, they are ideal for mobile gaming. Furthermore, they are far more adaptable than gaming headsets because they can be used on a broader range of devices.
How do gaming earbuds work?
If your earbuds are wired, you must plug them into the port on your computer or gaming console. Perform a mic test, and you're ready to go if everything works properly. However, if they are wireless earbuds, you must connect them to your system's Bluetooth before using them.
What kind of earbuds do gamers use?
This list contains many of the best gaming earbuds that professional players use. While some people prefer gaming-specific earbuds, others utilize entry-level earphones. Razer earbuds, as well as Bose QuietComfort, and EPOS buds, are popular among professional gamers.
Why do professional gamers wear earbuds?
You may have observed that professional gamers typically wear headphones and earbuds while watching gaming contests. Because they have stronger noise-canceling capabilities, the earbuds allow people to concentrate on the game.
Final Verdict
So, what are the best gaming earbuds?
The one with excellent sound quality. The earbuds should be comfortable and lightweight. So from the earbuds mentioned above, you can choose the one that best suits your needs.
The audio profile should be good. Noise-canceling enhances the sound effects while playing games. Bose QuietComfort earbuds are best for noise-canceling. Furthermore, earbuds with long-lasting battery life should be preferred.
So, go through our top listed best gaming earbuds to make your gaming experience out-of-this-world.